"The 70th Anniversary of the Korean War: What Its Legacy Tells Us About American Identity in the World Today"
Thursday October 29, 8 PM EDT, a Bucknell University-based online talk
Military Historian and Political Commentator Victor Davis Hanson of Stanford's Hoover Institution will speak on the 70th Anniversary of the Korean War, America's fight against Communist totalitarianism then and its meaning today, at an online event based at Bucknell University and open to all, Thurs. 10/29 at 8 pm.
His talk, which will include a question-and-answer session, is dedicated to the memory of Bucknell alumnus George Ramer '50 (pictured below), a political-science and history major and local high school civics teacher, who was killed in combat in Korea by Communist forces and won the Medal of Honor for his valor.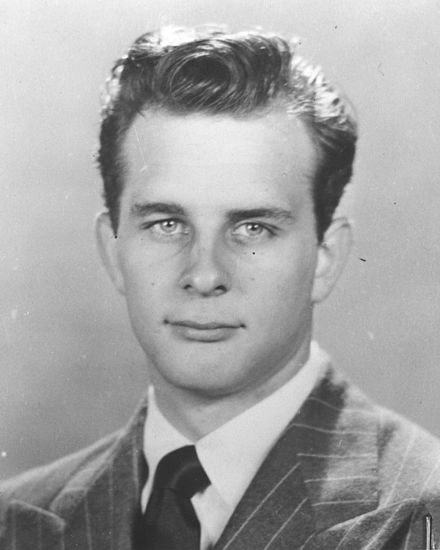 The citation for the Medal noted: "Unable to hold the position against an immediate, overwhelming hostile counterattack, he ordered his group to withdraw and single-handedly fought the enemy to furnish cover for his men and for the evacuation of three fatally wounded Marines. Severely wounded a second time, Second Lieutenant Ramer refused aid when his men returned to help him and, after ordering them to seek shelter, courageously manned his post until the hostile troops overran his position and he fell mortally wounded."
Ramer's memory is honored in a bust at the entrance to the Langone Athletic Center on Bucknell University's campus, and he is buried in Lewisburg Cemetery. A former civics teacher at Lewisburg High School, he was from a local family.
Hanson's talk is part of the Bucknell Program for American Leadership and Citizenship's Tucker-Brawley-Ramer Initiative for informed and thoughtful dialogue in the liberal arts tradition. The Initiative is named chronologically for three prominent Bucknell alumni who embodied that goal in their careers: Andrew G. Tucker '1862, fatally wounded at the Battle of Gettysburg defending American ideals while fighting for the Union; Rev. Edward McKnight Brawley '1875 MA '1878, whose work in founding institutions of higher education exemplified positive engagement of religious faith with the liberal arts; and George H. Ramer '50, who bravely died resisting totalitarianism.
Admission to this Zoom Webinar event is free, and the link to join it is here.

Co-sponsored by the Commonwealth Foundation